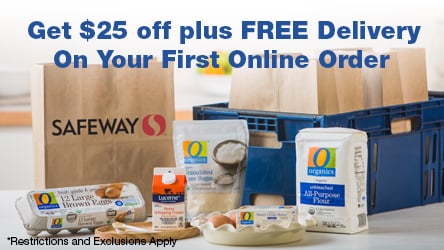 Grocery Delivery, Instacart, Same Day Service and Drive Up & Go!
Your local Safeway now offers grocery delivery, making grocery shopping easier than ever! Save time and energy by simply placing your order online and your groceries will be delivered straight to your door in delivery windows of 1, 2 or 4 hours. Plus, when you order before 1PM, you are guaranteed to get your groceries in the same day. From produce to paper towels, all your grocery needs are just one online order away and with online ordering, you can shop by history, making your shopping experience smooth and simple. Not to mention you will get access to exclusive online offers and savings! As an added thank you for trying our new service, use the Promo Code 25FREE and receive $25 off and free delivery on your first online order when you spend $100 or more! Or, Use the Promo Code FREE to receive free delivery on your first online order of $30 or more!

For rush orders, get your groceries the same day and in as little as two hours through our partnership with Instacart in select zip codes. Plus, get free delivery on your first order!
*Instacart Terms and Conditions apply

In a hurry and on the move? Our new program, Drive Up & Go, is perfect for you! Simply place your order online, drive up to your local Safeway, where your groceries will be loaded directly into your car, and you are on your way. Use Promo Code 25DRIVEUP to receive $25 off your first online order when you spend $100 or more! Does it get any easier than that? With flexible delivery and pickup times, friendly service and a great selection, you can count on Safeway grocery delivery and Drive Up & Go!